Ongoing, planned and completed studies
Over the past 20 years, pediatric investigational sites in our network have participated in actually 24 completed studies.
The indications are those commonly encountered in pediatric practices and outpatient clinics. Feasibility surveys were conducted in each case (black bars).
It was never possible to recruit all the children who were previously calculated during feasibility questionning to be possibly recruited. Nevertheless, 79% of the announced subjects could be included in vaccination studies. Only 1% oft he children dropped out In the case of the allergy and asthma studies, intensive screening was necessary in order to obtain the necessary number of subjects for the studies. Here in the middle 51% of announced subjects could be included in the studies, whereby a dropout of 21% was observed.
Scientific publications exist for many studies in which NETSTAP Centers participated. They are named below. Where the publications are missing, we mostly have official final reports by the sponsors.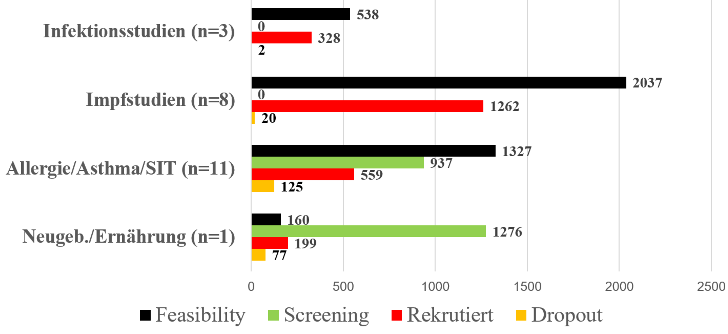 Here you will find an overview of our studies and their characteristics:
Ongoing studies
Sublingual immunotherapy study (2018 – 2021, ongoing)

Phase IIa vaccination study (2019 – 2021, ongoing)

Phase III vaccination study (2019 – 2021, ongoing)
Planned studies
SIT studies in the context of TAV

Allergy prevention studies

further vaccine studies

spec. pediatric indication
Completed studies